Tommy Wiseau
Edit
Tommy Wiseau is a one-time character in UFC 3 but I can't fight . Wiseau is a professional UFC fighter and has competed in many fights, usually ending with a knocked out Wiseau. Wiseau's place of residence is Las Vegas, NY, USA. His height is 185cm and he weighs approx. 70kg. Wiseau had fought 5 matches, losing them all.
Formerly Thomas
Edit
Later in Wiseau's career, he decided to change his name and persue a professional UFC career. His apperance changes quite a lot during the transition, as he was beaten badly in all of his earlier fights. Though he lost his first two fights due to lack of training, Thomas won his 3rd fight in a miraculous battle. What's most incredible is that Thomas won the fight whilst being severely injured from overdose of protein shakes. Thomas decided to retire after this match, exiting while he's "at his peak".
Fight Info
Edit
First Name - Tommy
Last Name - Wiseau
Nickname - Big Daddy
Social Media Handle - @potus
Hometown - Las Vegas, NY, USA
Age - 25
Weight Class - Lightweight
Weight - 70kg
Height - 185cm
STRK - 69%
GRPL - 59%
STAM - 65%
HLTH - 68%
Fight History
Edit
| | | |
| --- | --- | --- |
| Competitors | Winner | W-L Ratio |
| Wiseau vs. McGregor | McGregor | 0-1 |
| Wiseau vs. Gaethje | Gaethje | 0-2 |
| Wiseau vs. Nurmagomedov | Nurmagomedov | 0-3 |
| Wiseau vs. McGregor | McGregor | 0-4 |
| Wiseau vs. Karezza | Karezza | 0-5 |
| Wiseau vs. Cooper | Cooper | 0-6 |
| Wiseau vs. De Vries | De Vries | 0-7 |
| Wiseau vs. Cole | Wiseau | 1-7 |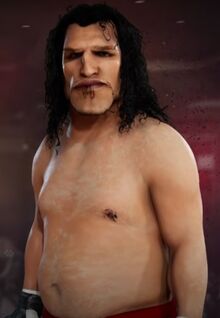 Personality
Edit
Wiseau is always determined to try his hardest in every fight he competes in. However, his lack of dedication for his chosen profession is Wiseau's most popular trait. He is ignorant and always believes he can triumph even when he's down. Wiseau is unaware about many of the situations he crawls his way into and ignores common sense.
"I don't want to be one of those fighters who keeps going 'til they're bad, I want to go out on my peak. Time to retire"
"You cheated by being better"
"What's happened to me!?"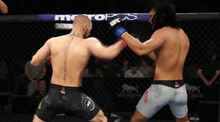 Tommy is from Las Vegas, New York, USA.
Tommy fought for Russia at the beginning of his career. However, he changed to USA during his professional transition.
Some fighters Wiseau faced include Conor McGregor, Khabib Nurmagomedov and Justin Gaethje.
Wiseau has many nicknames including "Big Daddy", "Jumbo" and "POTUS"
Wiseau's training method includes one protein shake a week. This method eventually got him injured.
Wiseau's walkout music is '300 Violin Orchestra' by Jorge Quintero
Wiseau has a tattoo on each nipple.
Wiseau got a "SUB" tattoo on his back to persuade viewers to subscribe to CallMeKevin.
Wiseau's only win was against Ben Cole via knockout.
Episode Appearance
Edit
UFC 3 but I can't fight - Tommy makes his debut and retirement in this video. He experiences a few ups, many downs and eventually turns professional.
Community content is available under
CC-BY-SA
unless otherwise noted.