MiiCasso is a Mii character created by Kevin. He is named that way due to his face being completely messed up, similar to paintings made by Picasso himself. He was generally used for games involving Miis until the creation of Turg in 2020, which caused MiiCasso to be forgotten about due to Turg's popularity. However, he later made a comeback in Kevin's Tomodachi Life series
Origins of MiiCasso
Edit
His name comes from the word "Mii", as he's one of them, and from the name of the famous painter Picasso. Indeed, MiiCasso's face looks as fecked up as Picasso's most famous characters, such as the ones from his most famous painting, Guernica. As per usual, Kevin fecked up the character because he needs the stupidest and most unbelievable face imaginable for his creations. Due to his striking resemblance to another Mii character Kevin created, Turg, it's been suggested by fans, and Kevin himself, that the two are related in some way - but this hasn't been confirmed.
Appearances
Edit
MiiCasso was originally created as an original character for his Wii Sports video. He has also been used in the Wii Fit video, introducing their mortal enemy: Guest A, another Mii. Both videos shows us that MiiCasso is extremely un-athletic.
Other appearances included in the This game is destroying my brain cells video about WarioWare: Smooth Moves and a small cameo in Samba de Amigo, in the video The most cursed rhythm game ever.
After making no appearances for a while due to the creation of Turg, MiiCasso made a comeback in the Tomodachi Life series, in a video simply called tomodachi life Kevin apologised to MiiCasso for forgetting about him.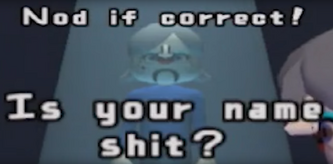 Community content is available under
CC-BY-SA
unless otherwise noted.