Izaiah Garcia is a randomly generated sim who lives in San Myshuno. Izaiah Garcia was Urp's (and Kevin's) favorite barista. He frequently visited Urp and Jim in their old apartment.
Overview
Edit
Izaiah initially appeared in the 3rd episode of Kevin's Sims 4 series A SERIES OF INSANE EVENTS | Sims 4 Toddlers, released on 19th of January 2017.
The first time we see Izaiah is after he somehow manages to break into Urp's apartment while he's playing with his children, Murpi and John. He also manages to get another barista into the apartment mysteriously. After Izaiah talks with Urp, Kevin decides that they are part of this weird family and takes a photo to remember the occasion.
Even though Izaiah was "a part of the family" he did not follow Urp to the new apartment that was purchased in episode 4 THE ULTIMATE HOMEWRECKER. Later on in the episode, Kevin invites Izaiah of as he is still his favourite barista. As soon as he sits down in the apartment Kevin sees this as a fitting time to end the episode.
During the episode That Weird Neighbour Izaiah is seen talking to Jim. He might have also appeared as a stallholder at the romance festival Jim went to, or it was a very visually similar sim.
Oddly enough, Izaiah reappeared in the episode Sims 4 but seasons was a GREAT idea, along with the other barista, even though he should have realistically been dead at this point. When Jim set up a marketplace in his backyard on Dear Leader Day, Izaiah was selling food at the Chinese food stall, but since people had to fast on Dear Leader Day, no one bought anything from him.
Appearance
Edit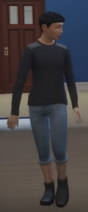 Izaiah has short black hair that is swept to the right, he also has a small triangular goatee. He has a fairly average build.
The first outfit we see Izaiah in consists of a white top with maroon accents, a yellow and maroon apron, dark blue work pants and black sneakers. According to Kevin, this is his barista outfit even though we've never actually seen him make any sort of drink.
In the episode after his introduction, we see his everyday outfit. This outfit consists of a black sweater with light grey shoulder pads, 3/4 light blue jeans and ankle-length black boots.
He is Kevin's favourite barista out of the two although it might be because he's a good guy.
He has been described as being friendly. Although it's unknown whether or not he actually has this trait.
He has a signature walk style know as the 'Izaiah Swag Walk'.
He's apparently one of the only people Jim actually likes.
Izaiah is never actually seen working as a barista.
Community content is available under
CC-BY-SA
unless otherwise noted.