Fecker is the protagonist of Kevin's Red Dead Redemption 2 Online series. Not much is known about Fecker apart from his catchphrase "Howdy, Mister". He is 60 years old and owns a horse named Pickens. In "Red Dead Online but I am the most annoying man in the west", Fecker fights off cow-boys on a snowy mountain shirtless, fights a man in the mud, throws a cowboy off a boat and kills a foreign cowboy only due to the language barrier, so he is not a man to be trifled with. Fecker turns more hostile as the series progresses, as in the beginning he would kill for self defense, whilst near the ending he would kill just for minor inconveniences.
In order to impersonate the character in the best possible way, Kevin tries to take a strong accent (this is also a trick to hide his true voice and so not being recognised by other online players). Anyway, this accent is sometimes too much for him to keep.
Personality
Edit
Fecker is a respectful but incessant character in the wild west. He has a love of hats (mainly because they hide his bald patch) and enjoys the company of others. He enjoys waving at random pedestrians to make friends. Fecker also enjoys gummy vitamins despite the fact he has no teeth. He is a tough individual and will open fire on any person that goes against him and his ideas.
Episode Appearances
Edit
Red Dead Online but I am not cut out for the wild west - Fecker is introduced and helps random folk while abandoning his horse Pickens.
Red Dead Online but I try to make a gang of random players - Fecker gets inspiration to form a Wild West gang of random players. Although Fecker treats them terribly, they stick with him.
Red Dead Online but I am the most annoying man in the west - Fecker is determined to find himself a friend in this episode. This proves difficult as every cowboy he meets would be hostile towards him.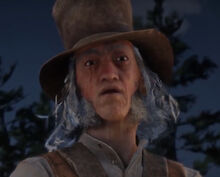 Community content is available under
CC-BY-SA
unless otherwise noted.