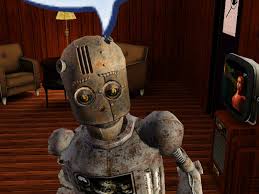 Davin Pickens was a Simbot that was purchased by Jim Pickens using his lifetime happiness points.
Davin appears only in the second Sims 3 Let's Play and was Jim's robot and best friend. Kevin was annoyed by Davin's constant mourning of the broken TV and hunger. He short circuited temporarily and was left in the house by Jim once he moved out.
Kevin pointed out his strong resemblance to the Iron Giant.
Many viewers commented that he needed to go the junkyard for food, but it eventually was too late.
Kevin wanted Davin to adopt a small cat so that he would not be alone.
Community content is available under
CC-BY-SA
unless otherwise noted.